My Golden Leaf Gel Polish Nails For A Wedding + TUTORIAL
Hi everyone,
I went to my cousin's wedding in April and since I was going to be away for 9 days, I've decided to do a gel polish manicure. It was the perfect opportunity to test the longevity of gel polishes as this was the first gel polish manicure that I was going to wear for more than a day!
I wanted something fun yet a bit elegant and suitable for a wedding so I have used Nsi Polish Pro in Fruit Smoothie which matched my dress. It's a pretty magenta pink with a subtle shimmer. I have used two thin coats as per the general directions and you can see it was enough for good coverage.

Of course I wasn't happy with just plain colour so I laid little gold foil pieces one by one. I've taken advantage of the sticky surface gel polishes have after being cured. That way I didn't have to use glue or topcoat to sick the foil to the nail. I also had to use two coats of Nsi Polish Pro top coat to get nice & smooth finish. The gold leaves were slightly sticking out so one coat of top coat wasn't quite enough.
And how the manicure 'performed'? Below is a picture of how it looked after 9 days of wearing. It was pretty good but the foil started to wear off in some places which bugged me quite a bit. The gel polish itself had lasted well and I didn't have any chips.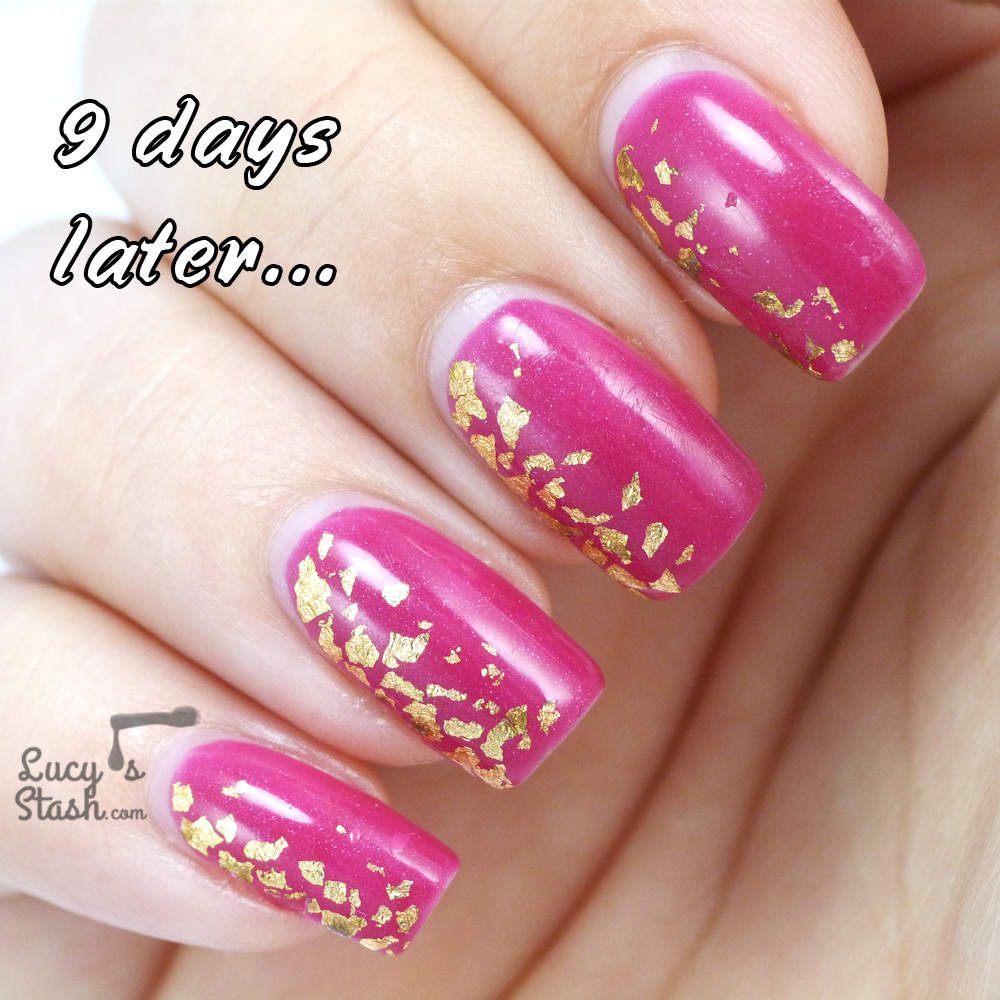 I've also prepared a picture tutorial for you, here's some (hopefully) helpful description:
Prepare your nail - lightly buff your nail with 240grit or higher buffer. Then clean and dehydrate the nail with dehydrator and lint free wipe. I'm using Nsi Nailpure Plus.
Apply thin layer of gel base coat and cap the free edge of the nail & cure it. I'm using Nsi Polish Pro Base Coat Plus and UV lamp.
Apply thin coat of the gel polish but don't cap the free edge & cure it. I'm using Nsi Polish Pro Fruit Smoothie.
Apply thin second coat of gel polish & cure it.
Keep the tacky residue on and start sticking small pieces of gold foil on the nail one by one. This is best done using a pair of tweezers as your nails are now sticky ;)
Seal the nails with two thin coats of gel top coat and cure each coat. I'm using Nsi Pro Top Coat.
Remove the tacky layer with appropriate cleanser. I'm using Nsi Cleanse.
And that's it!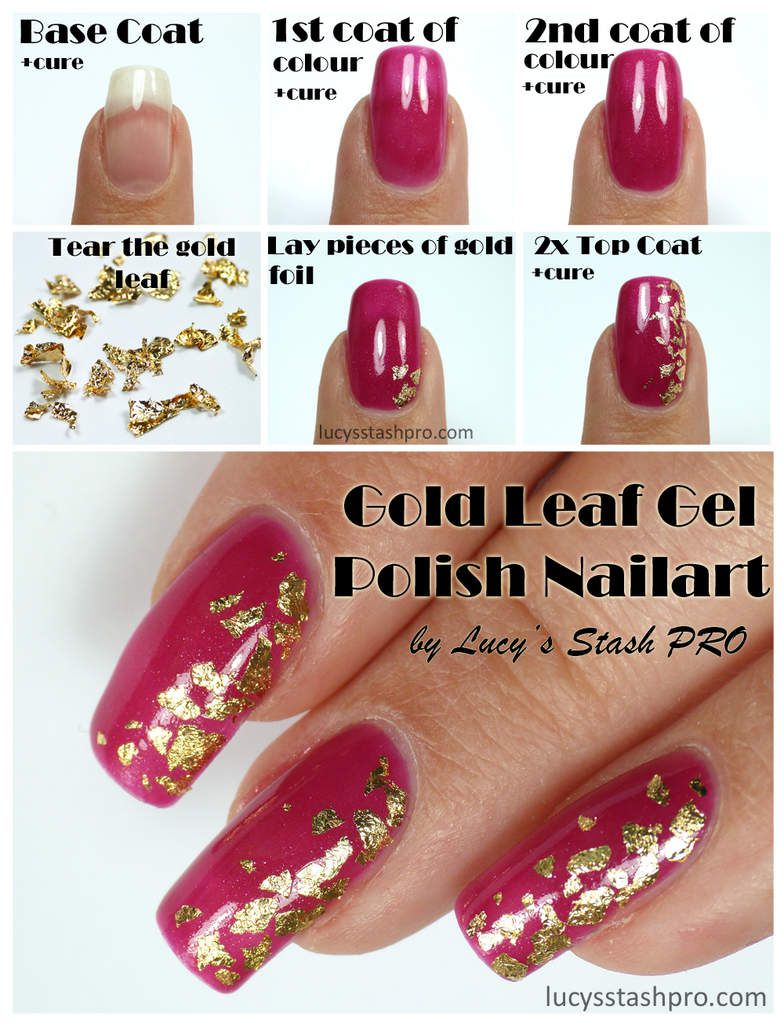 I've removed the gel polish using the foil method and acetone and it worked very well. A thin layer of basecoat stayed behind so I put the foil back and then gently scraped the remaining base coat with orange stick.
Overall, I'm very pleased with the colour and performance of Nsi Polish Pro system. I appreciate that it didn't cause any damage to my natural nails and lasted throughout the whole vacation. I don't wear gel polish often but I wouldn't be afraid to wear it again.
Nsi Polish Pro range is available at Nsi UK and at Nsi US and at major beauty exhibitions throughout the year.
*I have NOT been compensated for this post